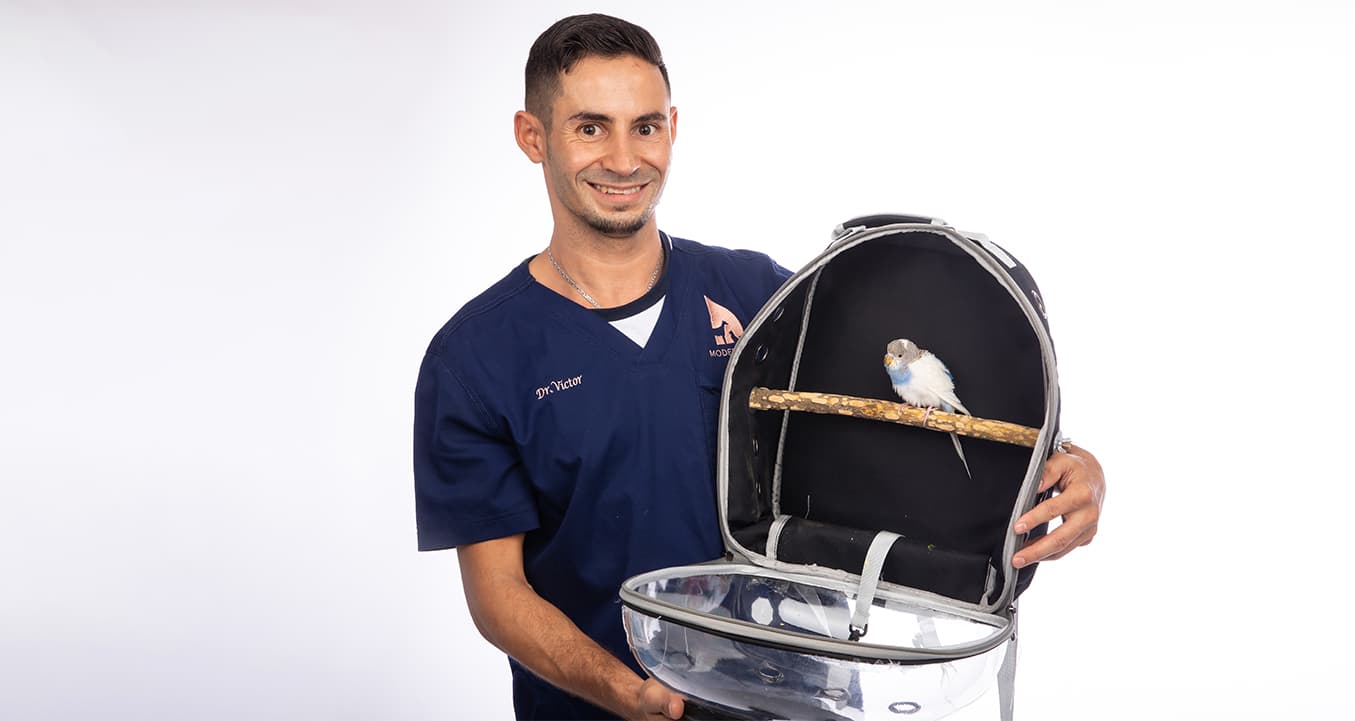 AVIAN AND EXOTIC ANIMALS
When it comes to raising and caring for your beloved pet family, it can be a daunting task to choose the right veterinary practice for them, especially if they belong to exotic avian and animal species. As the leading figure of pet healthcare in the UAE, the Modern Vet Hospital offers a comprehensive range of pet care services for your exotic and avian babies.
Who Will Treat Your Pet?
When it comes to uncommon and exotic pet species, it is very essential to give them the right veterinary care and treatment. Treating them like another canine or feline species can have grievous consequences on their health and wellbeing. In order to give them appropriate treatment, it is important that you take your pet to a reliable and resourceful veterinary specialist. At Modern Vet Hospital, we are committed to being partners in ensuring the continued health and care of your pet. Whether you are a pet parent to a cat or a parrot, our experienced veterinary specialists and staff are equipped to care for them in a professional and compassionate way.
Medical Services Offered:
Our veterinary specialists combine their vast knowledge with the use of state-of-the-art equipment to give your pet the best possible care. At Modern Vet, we offer an extensive range of services, especially for exotic avian and animal species:-
Consultation
Our specialist veterinarians are committed to help you help your pet attain the highest quality of life. From preliminary examinations to medical guidance, you can consult with and gain professional advice from our doctors to better care for your beloved pet family.
Endoscopy
Endoscopy is a medical procedure involving the insertion of a special camera inside the body to view and study the internal organs. Our expert veterinarians are well-qualified to employ endoscopy as a means of examining the ears, nose, trachea, or possible air sacs in your pet's body.
Radiology
Our veterinary specialists use modern x-ray technology to run diagnostic tests to get a better view of the internal makeup of your pet. Radiology aids in determining or ruling out the need for further treatment options.
Ultrasound
Ultrasound is another way of analyzing the internal state of your pet's body without causing them any discomfort. We use custom-sized probes and other technology to study your pet's heart and other abdominal organs to check for pregnancy, heart, renal, and liver disorders.
Surgery
Our well-trained and highly experienced veterinary surgeons are qualified to perform both complicated and simple surgeries in clean, adequately sterilized environments to ensure the proper recovery and care of your beloved pets through therapeutic measures.
Extensive self-contained laboratory
We have a well-equipped internal laboratory complete with the latest lab technology and knowledgeable laboratory specialists who are highly trained to study samples and produce conclusive medical results.
Pet Store
We like to think of ourselves as the purveyors of all things pet and pet care in the UAE. From specialized diets and other supportive accessories, we aim to provide you and your pet with premium healthcare and nutritive services.