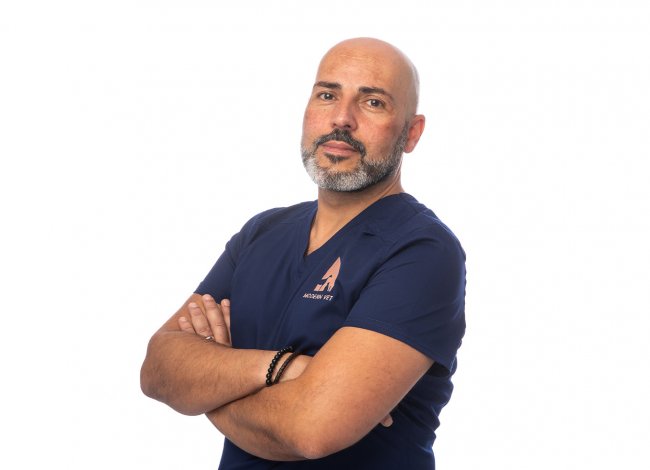 Dr. Joao Figueira
DVM
General Surgery

Orthopedics
BIOGRAPHY
Dr.Joao was born and grew up in Portugal, somewhere between Lisbon and Santiago do Cacém to Physician parents. As the grandchild of agriculturalists he spent his childhood at the farm around many different animals. Surrounded with animals in his formative years instilled in him a deep love for pets and their welfare, a deciding factor in pursuing a career as a veterinary surgeon. In 2001 Dr.Joao completed his veterinary degree at Universidade de Trás-os-Montes e Alto Douro, in Portugal. He continued on as an intern with the University of Cordoba, specializing in Radiology and Soft Tissue Surgery, and
later completed his post-graduate in Small Animal Internal Medicine at the Lusófona University in Lisbon, Portugal. Dr. Joao has completed an AO VET course in Tibial Plateau Leveling Osteotomy in 2017.
Dr. Joao joined the Modern Vet team in 2018. In practice, he enjoys soft tissue and orthopedic surgery. He enjoys spending free time outdoors playing rugby and football. He also enjoys surf and paddle. Dr. Joao speaks Portuguese, and English.
You can really see they do this with passion and the animal feels it. I recommend them, especially Dr Joao, the one that helped us.
Super happy with this clinic. From the guys at reception desk and assistants Martin, Adele. To the vets Joao. Very professional and caring vet. We took our cat there for a problem with his lungs and the whole issue was handle very well. Joao saved his eyes literally from losing them with an ulcer.