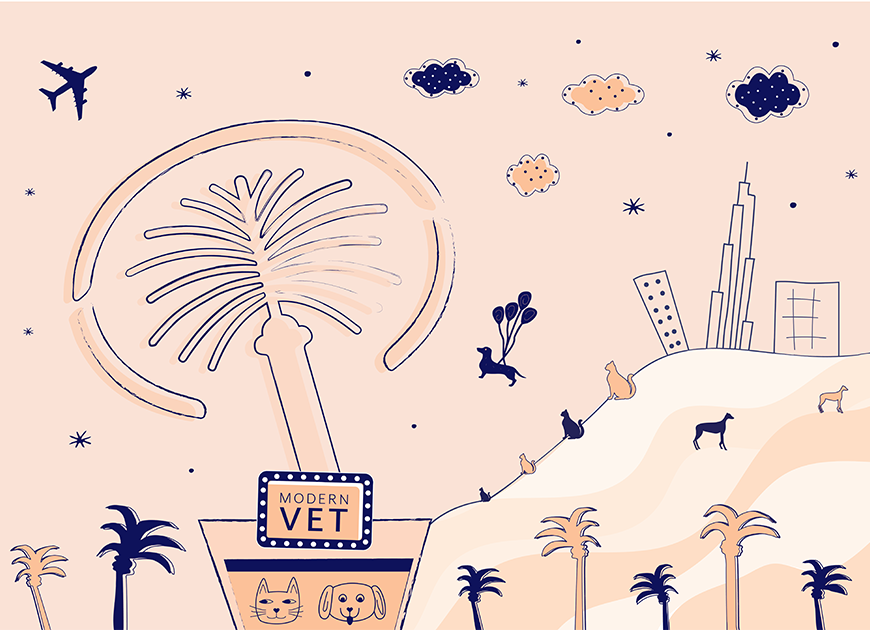 An Exclusive Veterinary Experience on Palm Jumeirah
Modern Vet, a Dubai-based veterinary chain of hospitals and clinics is opening its first location on Palm Jumeirah come September 10th, 2022. What makes this branch so special is its locale; located at the only pet-friendly mall in Dubai, the Golden Mile Galleria on Palm Jumeirah, it is undeniably a location worth visiting with your beloved pet.
 
Walking around the mall, one will come across dogs of all shapes and sizes, breeds from all over the world, but most importantly it is a perfect spot to hide out from the scorching summer heat. Here you can sip on some tea, coffee, or choose from a selection of fresh juices at one of the many juice bars and coffee shops at the Golden Mile Galleria while your pup or kitty is being groomed, having a routine check-up, or is in for something else. The best part is you will always be just a 2-minute walk from your pet if you do decide to grab a coffee or wander around the boutique stores at the mall.
 
The brand, Modern Vet, which launched its flagship location in Dubai in 1994, specializes in specialist referrals, urgent care, preventative medicine, dermatology, cardiology, ophthalmology, neurology, homeopathy, orthopedics, soft tissue, dentistry and much more.
 
Modern Vet, which now has 5 locations, says it can help with pets that experience minor wounds, fleas and ticks, issues with internal organs, changes in behavior, rashes, vomiting or diarrhea, and other common medical issues; as well as those unfortunate times where a visit to the emergency room is inevitable. Modern Vet is open 24 hours a day, 7 days a week which is a huge relief for many Dubai pet-owners.
 
"Essentially, emergency appointments for pets is whenever you may think to yourself "oh my gosh, something's wrong,  a veterinarian should take a look at this immediately,'" says the CEO of Modern Vet. "Most vet clinics in Dubai can't accommodate same-day appointments or walk-ins late at night, but we're always available."
 
The Palm Jumeirah location will include specialists in dermatology and ophthalmology (one of the first in the United Arab Emirates), preventative medicine veterinarians, general surgeons, as well as the highest-qualified, board-certified veterinary doctors. This will be the largest clinic behind the Modern Vet brand spanning 300 square meters. The location was designed with cats, dogs, and humans in mind and has designated waiting areas for kitties and pups that are set apart from one another, allowing for a stress-free veterinary experience for everyone; humans and animals alike; this is what the Modern Vet brand strives to achieve at each of their locations.