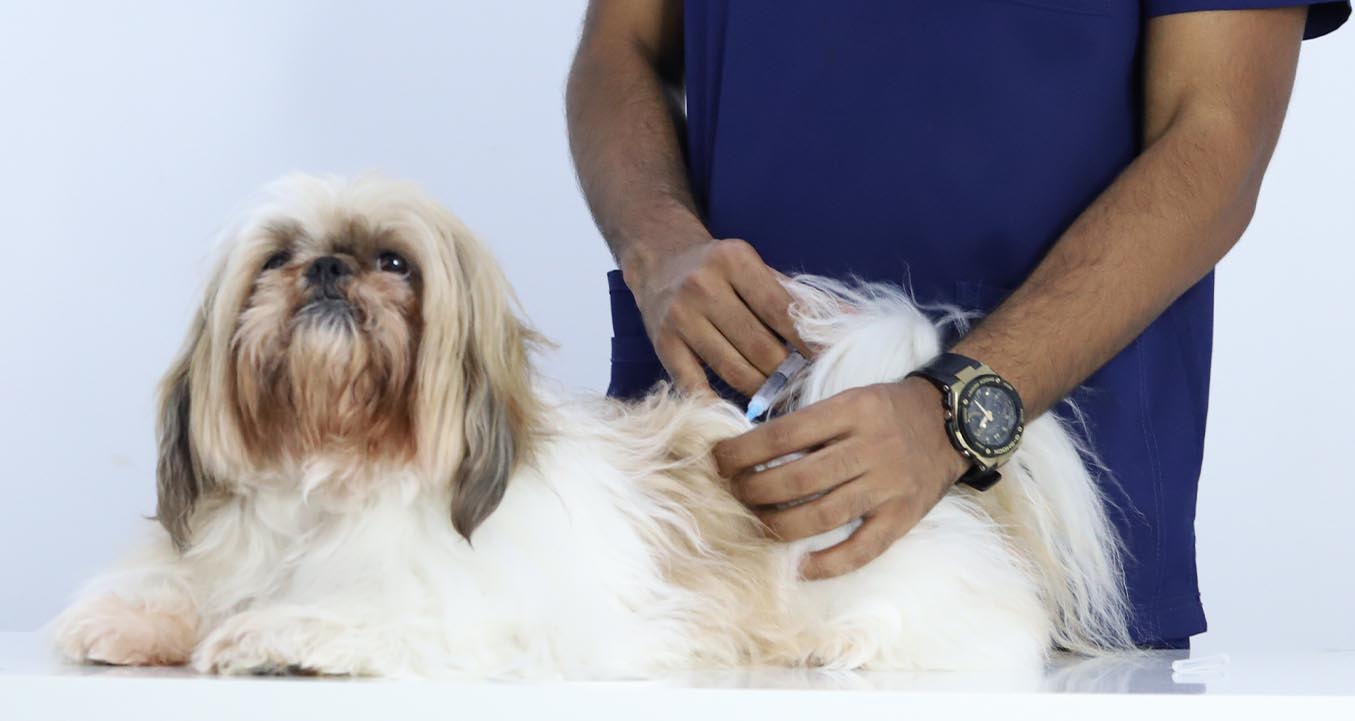 VACCINATIONS
A pet needs all the affection and attention you can provide. Health care is a significant component of their daily routine. Vaccinating them promptly is vital to prevent numerous diseases and preserve their quality of life. You may vaccinate your pet in multiple locations, but it is not just about immunization. However, your pet requires love, attention, and a stress-free environment.
You need to seek no further than Pets Health for the best pet immunization services. The veterinary treatment and vaccination services offered by Pets Health are superior and among the best in Dubai.
Why are essential vaccines necessary?
Vaccines are the best way to prevent your pet from getting sick. Vaccines can protect your pet from deadly diseases, including rabies and distemper, which cause brain damage and death in some animals. They can also help keep your family safe by preventing diseases that are spread to people by contact with rodents or other animals (like zoonotic viruses).
Vaccines can be given at any age but are especially important during early childhood when babies have little immunity against disease. The best time for vaccines is between one and four weeks of age when their immune systems are most active, and their bodies begin producing antibodies against germs.
Benefits of Pet Vaccination
When you vaccinate your pet, it is a good idea to have them checked by a vet. If you do not have access to a vet, there are still ways to prevent the disease from spreading. Vaccination can reduce the severity and risk of death from certain conditions. This can help save your pet's life!
Vaccines contain antibodies that recognize specific proteins on the surface of viruses or bacteria cells. These antibodies attach themselves to these proteins and create an immune response that prevents future infections from occurring by destroying them before they can spread through your pet's body
Cat Vaccination
Your cat does not have nine lives, according to urban mythology. Cats must be immunized with all necessary immunizations, and they are recommended to receive seasonal vaccinations. Your cat can receive expert immunization assistance from the veterinarians at Pets health, as we provide the best pet cat vaccine in Dubai. There are two types of immunizations for cats:
Core vaccines
FVRCP
Rabies Vaccine
FPV Vaccine
FHV-1 Vaccine
Non-Core Vaccines
The core vaccinations may also be delivered to a cat with a medical problem.
Dog Vaccination
Dogs are perhaps one of the most faithful pets you can own, but maintaining their vaccinations is a significant obligation. You need not be concerned with the Pets Health Dubai vaccine, as we have a team of qualified pet immunization specialists. There are both core and non-core dog immunizations. Our veterinarians will assist you in comprehending the pet dog vaccination schedule and determining the best course to take to guarantee that your pet dog can live an optimal life.
Core vaccines
Rabies
Distemper
Parvovirus
Adenovirus-Type 1
Adenovirus-Type 2
Non-core vaccines
Parainfluenza
Bordetella bronchiseptica
Canine influenza
Leptospirosis
Lyme disease
What are the contraindications of pet vaccination?
The following are some common contraindications for pet vaccination.
Pregnant animals should not receive vaccinations, as it can cause fetal injury.
A veterinarian should evaluate animals that are underweight or overweight before being vaccinated.
Animals that have recently received an immunization (within one month) or are on an immunosuppressive medication may not be able to safely receive a new vaccine due to the risk of adverse reactions from vaccination or its ingredients.
In addition to the above list, there are other situations where it may be advisable not to vaccinate your pet. For example, cats cannot receive a rabies vaccine when they are sick with an upper respiratory infection.
FAQs
How often should my pet be vaccinated?
It would help if you were sure to vaccinate your pet every year, but some vaccines may be given every three years and others only once a year. These are called "annual" or "continuous" vaccinations. Some pets may need more frequent vaccinations than that, for example, if they have been exposed to dangerous diseases.
Other kinds of vaccines are given every six months or even less frequently (every two weeks). If this type of vaccine is administered regularly at home, then it's not considered an annual vaccination—and therefore won't protect your dog from disease as well as annual ones would do so!
What is the cost of pet vaccination?
Vaccinations are a cost-effective way to protect your pet against diseases. They're covered by many insurance plans and can be expensive, but they're worth it.
Vaccinations vary by the animal, but they typically cost between $20 and $50 per shot. If you have an older dog or cat who has had several vaccinations in his lifetime (and thus will require fewer shots), that price may be lower than what you pay for a puppy or kitten who is just getting started on his path toward health maintenance.
If you don't have health insurance coverage for vaccinations, check with your vet about payment options before scheduling an appointment—they might offer discounts or require payment upfront if you're unable to afford them at present
How do I know if my pet has been vaccinated?
If you are unsure, it is best to ask your vet. They can tell you if the animal has been vaccinated and what vaccine it received. If your pet does not have any records of having been vaccinated, it is recommended that you get them vaccinated as soon as possible.
What are the possible side effects of pet vaccination
The side effects of pet vaccination are typically mild, but they can vary depending on the vaccine and your pet. Some vaccines cause more side effects than others. Your veterinarian can determine if your dog or cat is likely to have any problems from a particular vaccine by examining them after receiving it. Some possible side effects include:
Fever
Rash or irritation at the injection site (redness)
Loss of appetite
How long does it take for a pet to recover from vaccination
It takes a few days for the vaccination to take effect. This means that you may not see immediate protection from your pet's vaccination, but it does provide lifelong protection against disease. The vaccine must be given at least two weeks before exposure to the disease so your pet can develop immunity and avoid infection. Vaccination does not provide 100% protection against any specific disease in every situation—it only helps protect against those illnesses that cause most problems in dogs and cats because they are much more common than some rarer diseases like parvovirus or rabies.