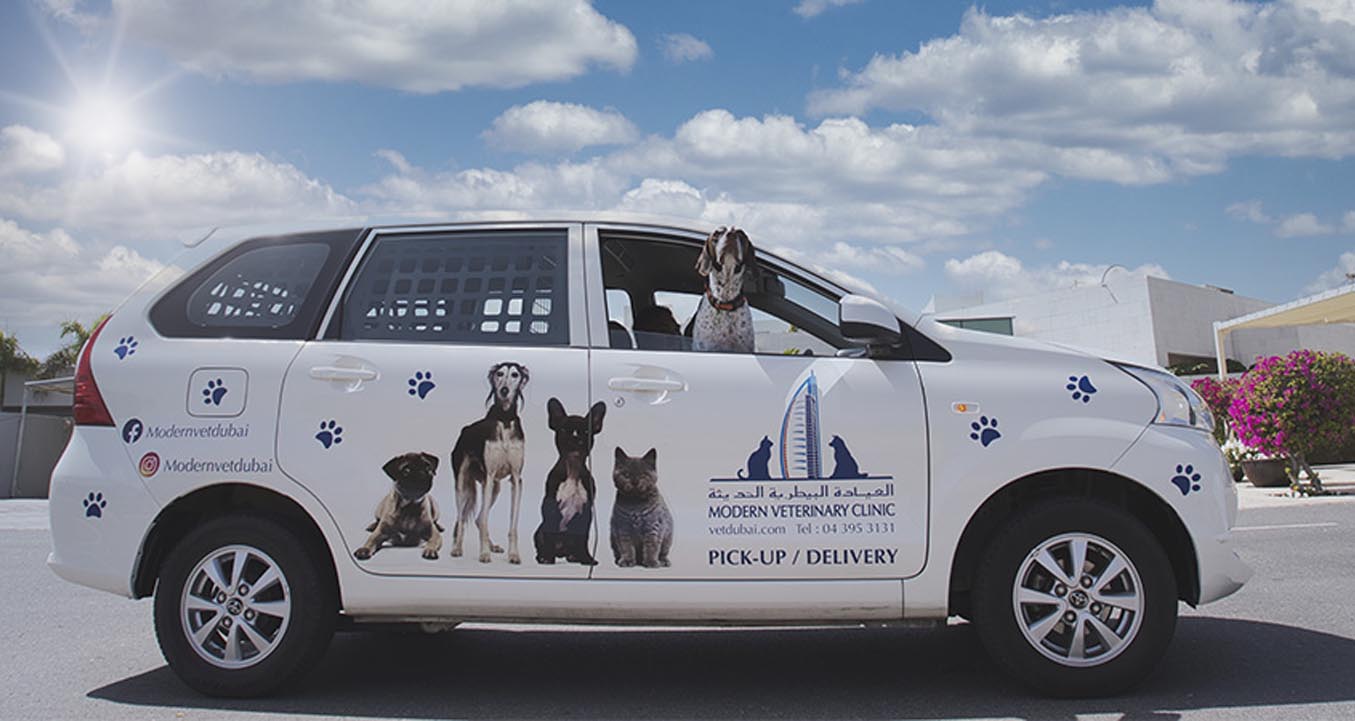 PET TAXI
Most taxi rides are designed to transport humans from point A to point B. Our vehicles, on the other hand, were created with pets in mind and are specially designed to take them to where they need to go. Our Pet Taxi is a comfortable and secure mode of transportation available to all of our valued clients.
How Does It Work?
Our vans come equipped with crates to keep your pets safe while traveling. While travelling, pets are accompanied by one of our trained veterinary technicians or professional animal handlers at all times. Our ultimate priority is to provide the best, the safest, and the most dependable pet transportation service in Dubai.
When Must You Avail Our Pet Taxi Service?
When your crate is too big or bulky to fit in your car.
When it's difficult to get your larger pets into the car for a routine check-up.
When your vehicle is deemed unfit for pet travel.
When you are unable or unavailable to drive.
When your schedule is packed.
When your veterinary appointment time(s) clashes with your work schedule.
FAQs
What is a pet taxi service?
Pet Taxi Dubai is a service that transports pets. We can arrange for your pet to be picked up and returned from any location in Dubai to one of our clinics.
Will there be any extra charges paid for my trip?
The cost of a trip is 89 AED for one-way trip. If you're looking to book a ride, please use our online booking system.
If you need to cancel your reservation, please do so as soon as possible before we leave for your pickup location (this is usually within 24 hours). We'll contact you if there are any issues with canceling; otherwise, we will not charge you anything unless we've already left town or gone out of business!
Does my pet need to be vaccinated to ride?
Before you can board your pet with us, they must be vaccinated. The vaccination needs to be done at least ten days before the trip. A licensed veterinarian should administer it, and this must be done by the same person who will help with any other vaccinations or treatments when we pick up your dog or cat on their next visit.
We require that all pets wear their rabies tag (a collar with an identification number). If there isn't one already on them, we can do it for free!
What type of pets do you accept in your cars?
Dogs, cats, rabbits, and birds are welcome in our cars. We also accept ferrets as long as they're no larger than 10 pounds.
How will my pet be secured in the cars?
As a pet owner, you will be happy knowing your pet will be secured in a cage. The cage will be located in the back of the car and secured tightly with straps so it cannot move around or fall off. This is an ideal way to pet transport safely, as they are safe from getting lost or stolen when traveling with us!
Can you pick up my pet without me there?
The pet owner must be present to sign a release form. The pet must be in a carrier or on a leash. The pet must be healthy and free of contagious diseases. Pets should also not be aggressive towards people or animals, as this could cause problems for both parties involved in the transaction (you and your new friend).
General tips to consider your trip
We understand that your pets are part of the family, so we want to ensure they have a safe journey. Here are some tips to help you prepare for your trip:
Ensure your pet has had a toilet break before the driver arrives to ensure they are comfortable for the journey.
Try to limit their food before a car trip. If there is something they want to travel with, bring it along!
Please let us know if there are specific things we can say to them to make them feel more comfortable.
What if my pet has special needs?
If your pet has special needs, we can help with that too. We will be happy to make any necessary accommodations so they can travel with you comfortably and safely.
We have many different options available depending on the type of service your pet needs and how long it will take to get them there.
How do I know my pet will have safe transport?
We use only top-of-the-line vehicles, which are inspected by our team of mechanics. We have a full background check on every driver, including criminal history and driving record. Our drivers are also insured for any damages to you or your pet during pet transport.
If you need help with anything, from booking your ride to getting your pet home safely when they arrive at their destination, our 24/7 customer service team is ready to help you out! Call us at 800-82 or fill out our online form.
Will my pet be alone while traveling via a pet taxi Dubai?
If you have a cat, it will be transported with other cats. If you have a dog, it will be transported with other dogs. And if you have an exotic pet like a parakeet or snake—or even something that looks like one of these animals it's likely to ride along in the same van as one of its cousins!
For more information or to schedule your next appointment, please contact the Modern Vet Clinic front desk by calling 800-82 or you can use the WhatsApp button on our website. We are open 24 hours, every day of the week!
Visit Team page to meet MV medical crew and About us page to learn about our philosophy. Follow us on social media to be in touch, we are presented on Instagram and Facebook.