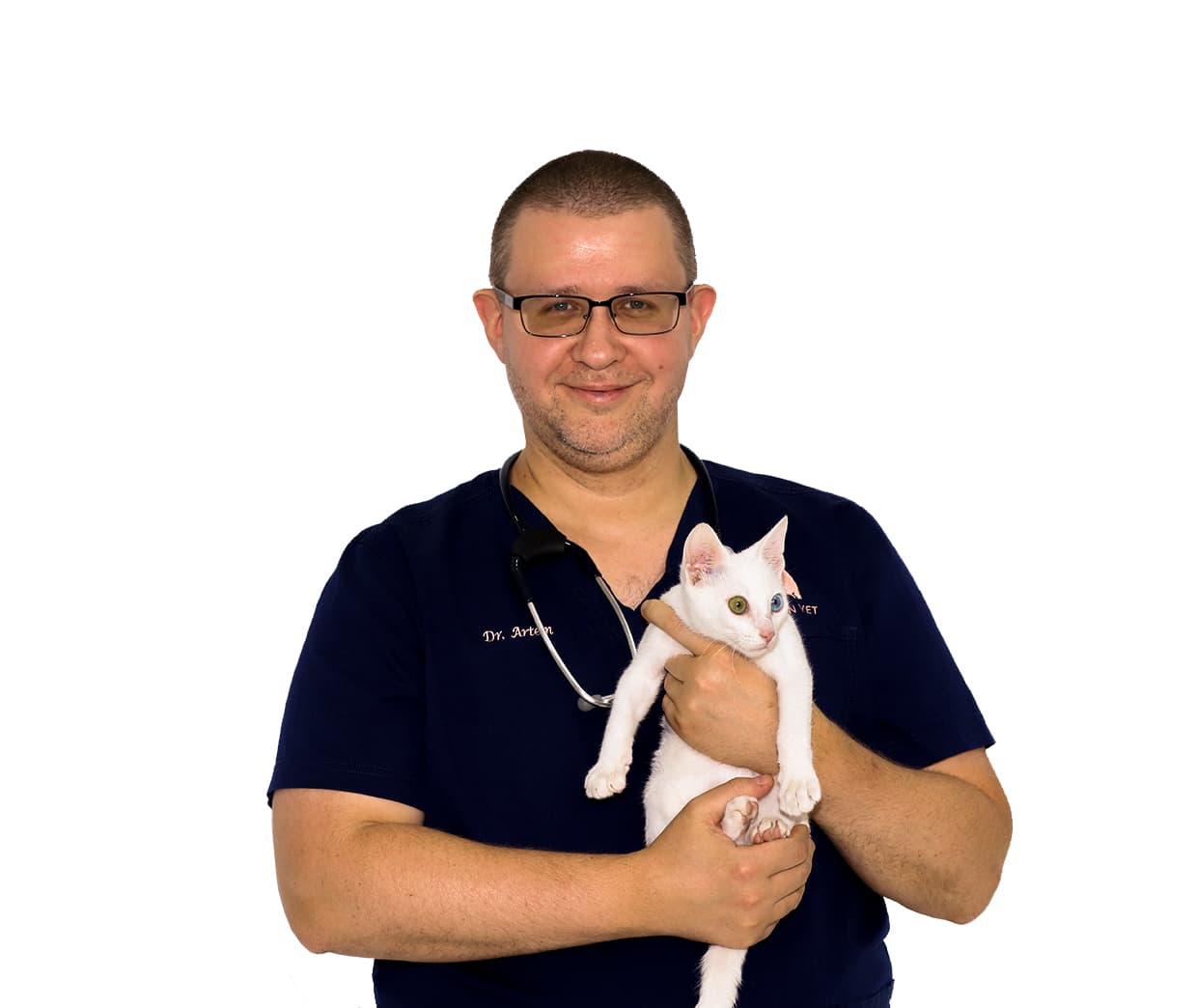 Dr. Artem has a special interest in emergency and critical care. Dr. Artem was born in Moscow, Russia. After receiving his DVM degree from University, he began working as an emergency and critical care veterinarian.
During his 15 years at that same vet clinic, the clinic grew exponentially, eventually turning into the largest referral hospital in Russia. Dr. Artem devoted a lot of time to the development of veterinary intensive care in Russia. Under his leadership a team of veterinarians introduced advanced intensive care techniques such as mechanical ventilation into practice.
After eight years of practice, he decided to switch things up and became the director of a non-profit postgraduate educational center for veterinarians, where he remained for six years before returning to hands-on vet practice once again.
Dr. Artem organized the first internship in Russia for young veterinarians, which includes 20 months of intensive clinical and classroom training, and a full-fledged knowledge control system.
During his work in Russia, Dr. Artem completeds short visiting programs at the teaching hospitals of the universities of Colorado, North Carolina, Florida, and Pennsylvania, and was a participant in dozens of international and local congresses and workshops as an attendee and as a lecturer.
In 2022, Dr. Artem decided to move with his family to Dubai and join the Modern Vet team as an emergency and critical care veterinarian.
I am so glad they are open 24 hours. I had to take my cat for an emergency appointment and I felt incredibly well taken care of, from calling about availability and opinion to the ultrasound and detailed explanation. I chose Modern Veterinary because I didn't want to take any risks with my cat's health, and I'm glad I wasn't disappointed. Dr. Artem was super helpful and clear, and the veterinary assistants and Jen at reception were very helpful. Thank you Modern Veterinary!
The staff is very king and caring. The vet, Dr Artem was very thorough in his explanation
Friendly staff, vet was nice and professional and good with my stressed dog.