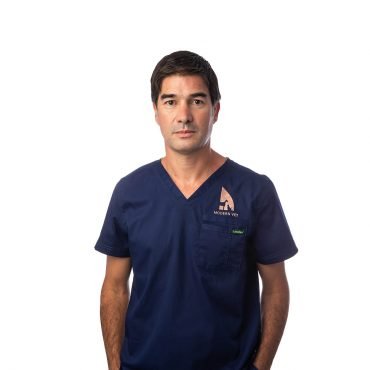 Luciano de Gatica graduated in 2005, as a Doctor of Veterinary Medicine, from Universidad Nacional de La Plata (UNLP) in Argentina. He gained extensive experience in the field of general and orthopedic surgery working as a surgeon at various clinics in Buenos Aires. His special interest and expertise in this field led to the creation of AguaraVet (Veterinary Surgical Referral Center) where he was the Medical Director. He worked as a professor of the surgery service at the Faculty of Veterinary Sciences (UNLP), where for ten years he taught not only state-of-the-art surgical techniques but also passed on his knowledge and spoke about his passion for the field.
Dr. Luciano has been working in Dubai since 2016. In his spare time he very much enjoys water sports such as kayaking, windsurfing, and diving.
For more information or to schedule your next appointment, please contact the Modern Vet front desk by calling 800-82, use the WhatsApp button on our website or our Online Booking page.  We are open 24 hours, every day of the week!
I have visited Modern Veterinary clinic at Al Wasl brunch at the end of 2020 ,my toy poodle Lulu 7 months old had an orthopedic issue on it's back leg knee .I am very thankful to Dr. Luciano De Gatica and Physiotherapeut Dr.Megan.
Doctor Luciano is very apologetic as we were seen late and explained, we felt very valued at this clinic
Great clinic. Everyone is so friendly and compassionate. Thank you