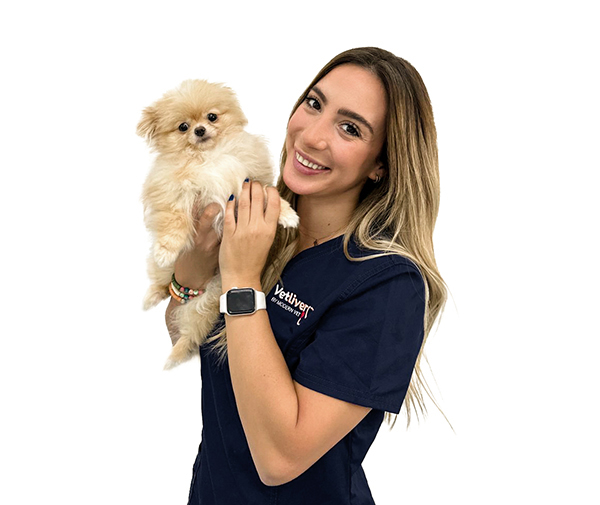 Dr. Maria Al Mouallem, the driving force behind "Vetlivery Mobile Veterinary Clinic," is on a mission fueled by her love for animals. Her venture, Vetlivery, proudly holds the distinction of being the pioneering mobile veterinary clinic in Lebanon and the Middle East, setting the gold standard for compassionate home care.
Graduating in 2015 from the Lebanese University Faculty of Veterinary Medicine and gaining invaluable experience during an internship at Veta Gro-Sup in Lyon, France, Dr. Maria realized something profound during her work in clinics – the power of personal care.
In 2019, driven by her love for animals, she transformed her vision into Vetlivery, marking a significant milestone as the very first mobile vet clinic in the Middle East.
Imagine the convenience of your beloved pet receiving a comprehensive spectrum of veterinary services within the familiar confines of your own home. Vetlivery brings this convenience to life, offering everything from routine check-ups, vaccinations, and consultations to essential blood and lab tests with the utmost professionalism and care.
Dr. Maria's mission knows no bounds; she's expanding her compassionate vision to the UAE. Partnering up with Modern Vet, a second mobile clinic has been established, a testament to her consistent commitment to improving the lives of animals and easing the lives of their owners.
Dr. Maria Al Mouallem's achievements transcend business. They embody a deep connection between humans and animals. Her visionary approach is about creating a world where pets receive the finest care while feeling cherished. And what better place is there to express love than at home? It all begins right there.
She inspires not only entrepreneurs but all who share their lives with furry companions in the Middle East and beyond.
Vetlivery stands as a beacon of hope and an example for others in the region, proving that love and dedication can transform the way we care for our pets.
Got my dog bubbles spayed and went so smoothly. She was not stressed at all and was smiling after surgery. Just being sleepy from the medicine. Great staff.
After going to several vet clinics were concerns about my dog were not handled properly, i am glad I found Modern Vet JLT. Easily got an appointment. Welcomed by friendly staff. Professional team and vet who looked after my dog carefully. A clean facility. Great Follow up after my visit. Definitely coming back again
Hi,I was visited modern Vet JLT for a couple of months.I am so happy to meet the friendly staff and the doctor is verry impressive & knowledgeable of handling the pets concerned!so what you are waiting for come and visit MODERN VET now its HIGHLY RECOMMENDED 😀