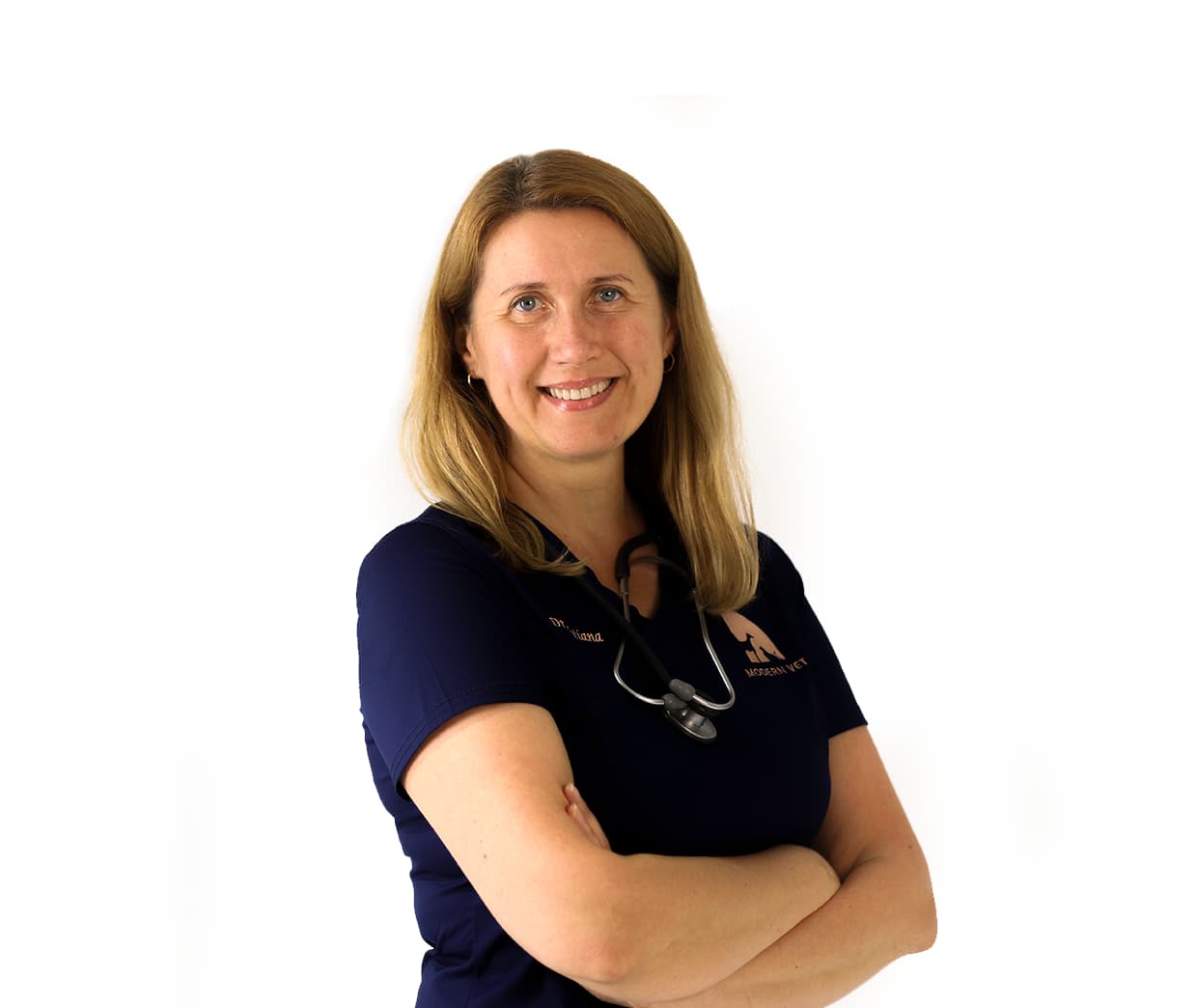 Dr. Marina Vorobeva was born in Nizhnekamsk, Russia. She can remember her passion flourishing for animals during her childhood; this eventually led to her obtaining her veterinary doctor qualification in 2001 from the Kazan Academy of Veterinary Science. After graduation she began working at a veterinary clinic and in 2006 opened her own practice where she worked as a general practitioner and surgeon. In 2008, Marina received a Doctor of Philosophy (PhD) degree, Animal Internal Medicine. In 2010 she went on to complete an internship and began working as a referral specialist veterinary ophthalmologist.
Marina soon became a member of the European Society of Veterinary Ophthalmology, in 2010.
Dr. Marina continued to pursue her professional education and development. In 2014, she completed a Basic Science Course in Veterinary and Comparative Ophthalmology, at the North Carolina College of Veterinary Medicine in the town of Raleigh, in the United States, this was followed by Dr. Marina's completion of a Workshop of Ocular Oncology in 2015 in Lisbon, Portugal, and in 2017, she completed a visitor program at the University of Zurich, Opthamologist Department. In 2019, Dr. Marina finished off a further course in Intraocular Surgery for Advanced Surgeons in Hennigsdorf, Germany.
Dr. Marina is now a specialist referral ophthalmologist capable of treating various eye conditions in small and large animals such as in cats, dogs, horses, rabbits, guinea pigs, rats, birds etc., ranging from glaucoma to conjunctivitis, cataracts and corneal ulcers.
In August 2022, Dr.Marina made her move to Dubai in order to expand her clinical experience and witness different unique cases; she craved another challenge.
Modern Vet is fully equipped with most advanced ophthalmology equipment and Dr. Marina is able to perform advanced ophthalmological procedures like cataract surgery, all range of microscopic surgeries, eye prostheses, and corneal surgeries. Her main area of development currently is genetic eye diseases.
Dr. Marina is an animal lover and her free time she dedicates to her 2 dogs and her cat. She also very much enjoys being active, practicing Aero Yoga which led her to complete several triathlon competitions (Ironman). These international competitions fuel her other passion – her passion to travel.
My Whisky is always in good hands at his new home at the Palm branch. Thank you Dr. Marina for looking after him and to her amazing and friendly team Lenie and Francis.
Keep up the good work
My German Shepard's having some eye problem ( Pannus apparently that's the name of disease) , we had an appointment with doctor Marina Vorobyeva , it's so amazing to finally meet someone so knowledgeable and professional in this field . Absolutely amazing experience , highly recommend this place
I have a small puppy and we had some issue and we are glad that Doctor Marina was there to help. Super knowledgeable and super friendly and carrying person 🙏🏻 Thank you Modern Vet for choosing best people to work for you ♥️