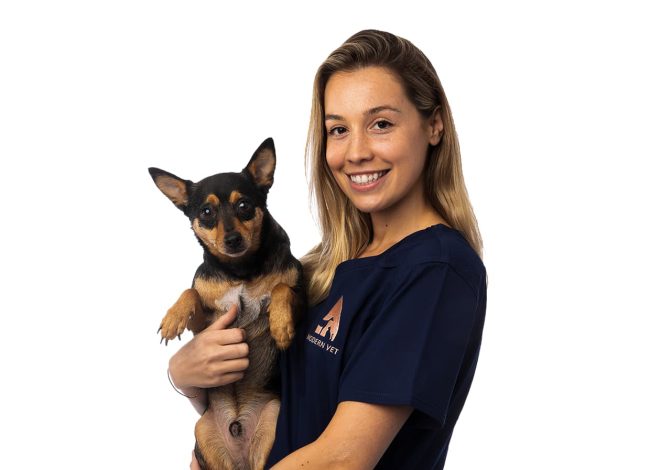 Megan Taylor
BSc & PgDip.
Acupuncture

Physiotherapy
BIOGRAPHY
Megan is a registered Veterinary Physiotherapist who graduated in 2019 from Hartpury University, one of the world's leading Equine Colleges, with a Postgraduate of Science in Veterinary Physiotherapy. Having acquired knowledge in a variety of fields, Megan gained her bachelor's in human physiotherapy, working with top athletes, in hospitals, orthopedic, and neurology wards.
For the two years before joining Modern Vet Megan was operating a Hippo-therapy/ Therapeutic Horse-Riding Service in Malta, providing physiotherapy through means of horseback riding to children with neurological disorders. Megan is registered with the Association of Chartered Physiotherapy in Animal Therapy, certified by the Health and Care Professions Council, and the Chartered Society of Physiotherapy.
Megan grew up in the countryside of Ireland surrounded by all sorts of animals. She competed in horseback riding across the country, primarily in showjumping. At 18 Megan relocated to the
Netherlands to continue her studies. After visiting Dubai several times, she fell in love with the culture and the energy of the city so she moved to Dubai with her Terrier, Scotch, where she now provides veterinary physiotherapy services to small animals and equine clients at any level.
In animals, as with humans, physiotherapy can be a great alternative to surgery or used post- operatively to maximize healing and prevent secondary injuries. Physical rehabilitation has had
huge success in reducing pain and improving mobility in many different conditions such as back pain, sprains and strains, orthopedic and neurological conditions and even performance problems. Physiotherapy can be a great preventative measure in ensuring your pet's comfort and general health and wellbeing.
I've been taking my poor old dog to see Dr. Megan for physio appointments and she doesn't disappoint! Definitely recommend!
I am very thankful to Dr. Luciano De Gatica and Physiotherapeut Dr.Megan,they found out fast the problem and within 2 months Lulu recovered and running happy on her all 4 paws.