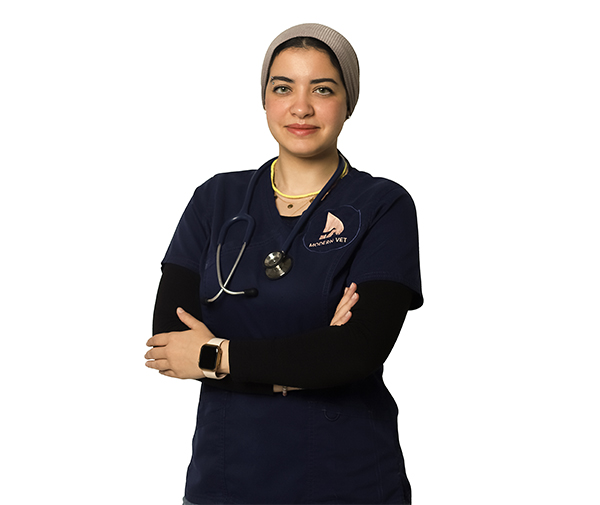 A product of a rich Australian/Egyptian heritage, Dr. Sarah Yosry stands as a testament to the union of diverse cultures and a shared love for animals. While Egypt's Cairo holds a special place in her heart, it's her Australian roots that have equally shaped her approach to veterinary care.
Earning her diploma from the distinguished Cairo University in 2017, Dr. Yosry quickly carved a niche for herself in the realm of veterinary medicine. During her tenure at The Ark Animal Clinic in Cairo, she showcased an adeptness in a range of diagnostic and surgical procedures. From utilizing state-of-the-art diagnostic tools like x-rays and ultrasonography to executing complex surgeries such as ear hematoma treatments, Sarah has consistently delivered exemplary care.
Passionate about continuous learning, Dr. Yosry has pursued specialized training in laparoscopic and endoscopic veterinary medicine and is presently enhancing her expertise in ultrasonography with Improve International UK.
Further testament to her commitment to the field are her memberships with international veterinary communities. As an active member of the BSAVA community, she stays abreast of the latest in small animal care. Simultaneously, her membership with the Vet Vault community in Australia reconnects her with her Australian lineage, reinforcing ties and fostering exchanges with fellow professionals down under.
Sarah's ability to empathize and connect with pet owners stems from her unique dual heritage. It ensures a holistic approach where every pet is treated with care and every owner feels understood.
Now a cornerstone of the Modern Vet team, Dr. Yosry channels her vast experiences, cultural insights, and professional affiliations to ensure the well-being of every animal under her care.
In the words of Sarah: "Every animal has a unique heartbeat, and it's my privilege to ensure it beats strong and happy."
Our female cat was checked and treated by dr Sara. She is very knowledgable, explained a lot what, why and how health of cat can be affected. Thanks a lot! Always great to feel leaving vet with peace of mind.
Dr.Sarah is very nice. Doing amazing work for my puppy.
If you're looking for a clinic that will make both you and your pet feel safe then this is the right place! You can tell that the staff really love animals by the way they handle them. All my pets are registered with modern vet.