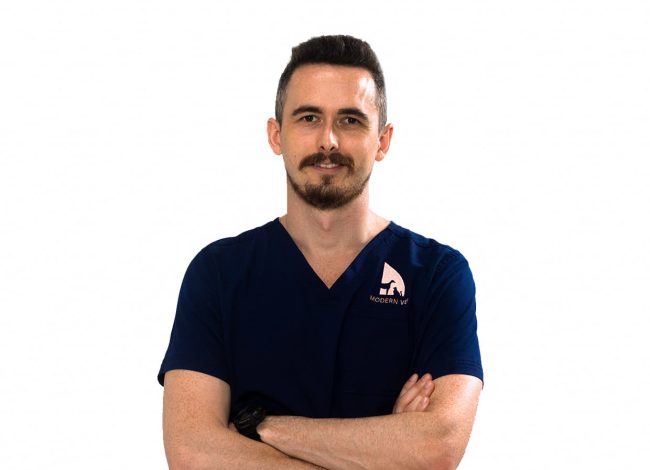 Dr. Serhii Sadovskyi
DVM
General Surgery

Internal medicine

Emergency and critical care
BIOGRAPHY
Dr. Serhii was born in Kirovograd city, Ukraine. He graduated with a bachelor's degree in veterinary medicine from Bila Tserkva National Agrarian University in Ukraine in 2013.
Dr. Serhii worked in Denmark on a dairy farm for about 18 months, after which he relocated to Abu Dhabi, where he joined the British Veterinary Center in May 2016 and continued working there until 2021. It was there that he gained great experience and skills and finally considered himself to be a well-rounded veterinarian. In 2021, Dr. Serhii moved to Dubai and joined Modern Vet.
Why did Dr. Serhii become a vet? Because he has always been passionate about working with animals, but what drew him to the field, even more, is the ability to also help people.
When Dr. Serhii is not working at the clinic, he enjoys running, reading, and spending time with friends. He believes to be a certain favorite among other staff members and clients alike because of his unconditional dedication, hard work, and calm nature.
At the moment, Dr. Serhii has an adopted pet cat in Dubai.
Best hospital for my little girl. Everyone is super friendly, Ivy doesn't feel like it's vet's place. Vet here is amazing, explains everything and answers all the doubts.
It has always been a comfortable experience with Modern Vet Clinic. The ambience is warm and welcoming and the doctors are well experienced. I haven't come across a reliable clinic as Modern Vet in Dubai. I strongly recommend them.