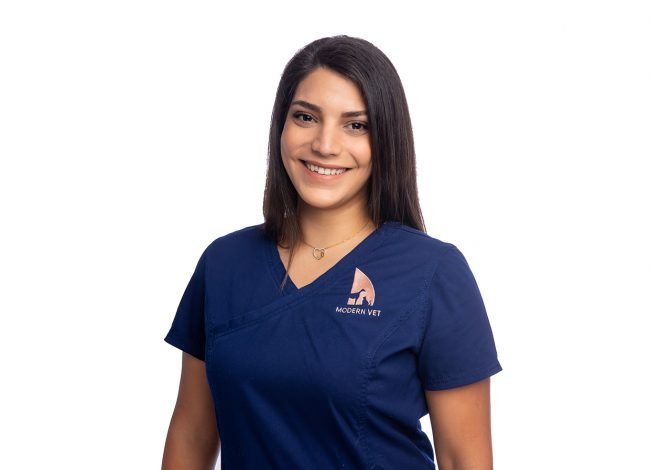 Dr. Despina Hleiss
DVM
General Surgery
BIOGRAPHY
Dr. Despina was born and raised in Lebanon. She was raised in an environment at home and in her community to respect and adore all animals. Growing up, Dr. Despina had dogs, cats, and birds at home. It was her childhood dream to one day become a veterinarian in order to make a difference in the everyday lives of both pets and pet-parents.
In 2017 she graduated with a DVM degree from the Lebanese University of Agriculture and Veterinary Medicine. Subsequently, she went on to work at a a small animal veterinary practice for the next four years, where she worked emergencies and also saw regular consults during the day. Dr. Despina has three cats back home in Lebanon who are currently living with her dad. Dr. Despina speaks Arabic, English, and French.
You can learn more about our services on this page and about our prices here.
For more information or to schedule your next appointment, please contact the Modern Veterinary Clinic front desk by calling 800-82 or you can use the WhatsApp button on our website. We are open 24 hours, every day of the week!
Our clinics are located in various districts:
Al Wasl Road
Jumeirah Lake Towers
Jumeirah Village Circle
Visit Team page to meet Modern Vet medical crew and About us page to learn about our philosophy. Don't forget to follow us on social media to be in touch, we are presented on Instagram and Facebook.
We have gathered plenty of useful materials that can help with your pet in our Health Library. We look forward to being your ultimate partner in pet healthcare
Modern Vet Hospital is everything you could hope for, and more.
Best clinic in Dubai. All vets are great, the team treats my dogs as their own and I'm really happy that my friend recommended me the clinic!!! Feel that my babies are being taken care of.