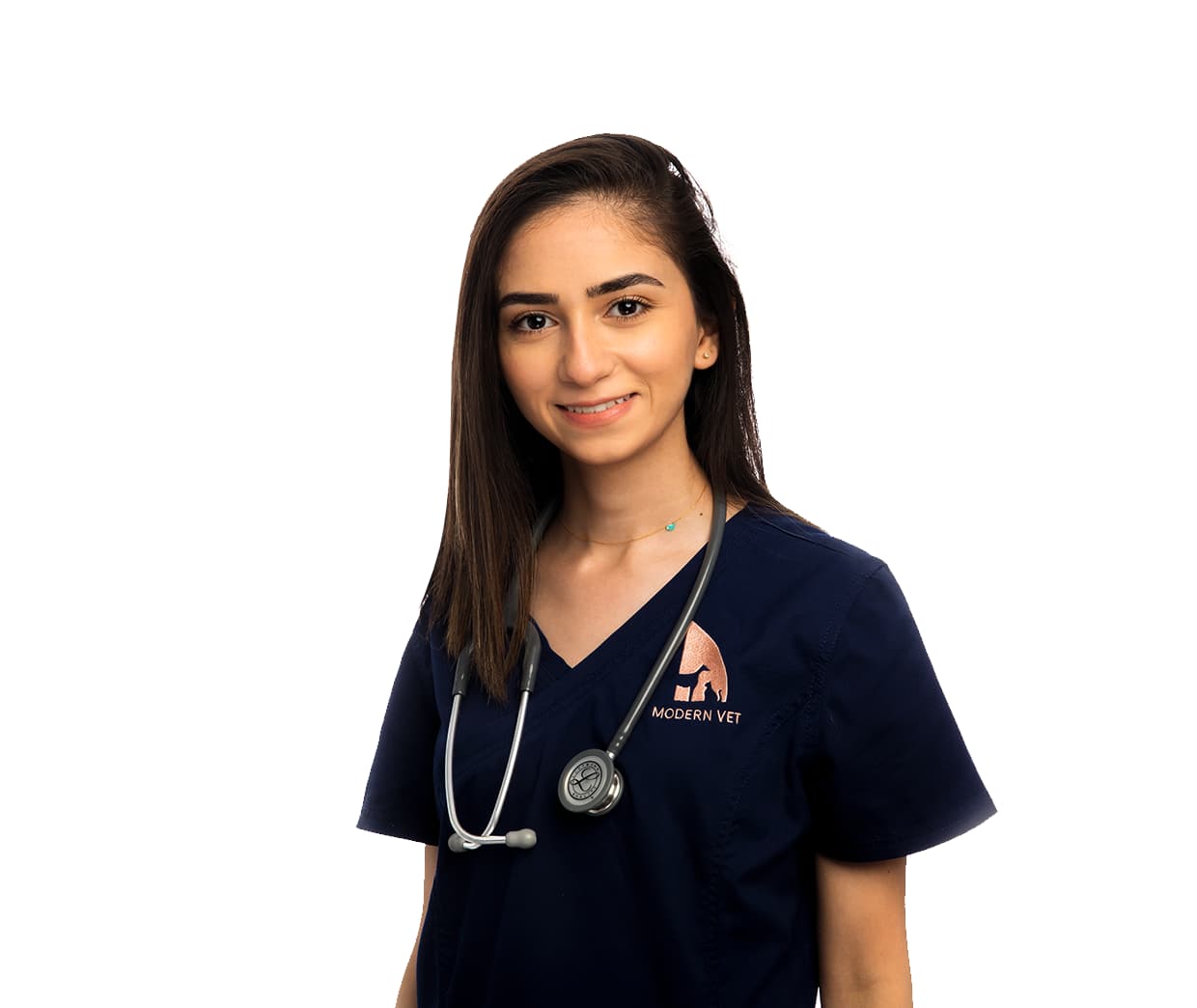 Dr. Rim Ghattas was born and raised in Lebanon. In 2019 she completed her diploma in small animal medicine at the Lebanese University.
Growing up, Dr. Rim cared for plenty of animals which only made her love for them grow stronger. Bella however is the one who made all the difference. Bella is Dr. Rim's dog, a Swiss Shepherd that motivated her as a veterinary medicine student to one day become the best possible vet that she could be.
Dr. Rim completed internships at Vétocéane, Nantes in France during the summer of 2018, at Blue Oasis Veterinary Clinic in Dubai in 2017, and also completed a few internships in Lebanon at small animal practices beginning in 2014 up until 2020. Dr. Rim also completed some training programs at large animal farms in Lebanon.
In 2021 Dr. Rim joined the team at Modern Vet.
You can learn more about our services on this page and about our prices here.
For more information or to schedule your next appointment, please contact the Modern Veterinary Clinic front desk by calling 800-82 or you can use the WhatsApp button on our website. We are open 24 hours, every day of the week!
Our clinics are located in various districts:
Al Wasl Road
Jumeirah Lake Towers
Jumeirah Village Circle
Visit Team page to meet Modern Vet medical crew and About us page to learn about our philosophy. Don't forget to follow us on social media to be in touch, we are presented on Instagram and Facebook.
We have gathered plenty of useful materials that can help with your pet in our Health Library. We look forward to being your ultimate partner in pet healthcare
Been with this Clinic for a over a year now and as always providing best quality of service. Doctors are very patient with my dogs.
My kitten Bunny enjoys his visits to the Modern Veterinary Clinic. All staff members are professional and friendly.
I'm a new dog mom and they were so friendly, informative and helpful!