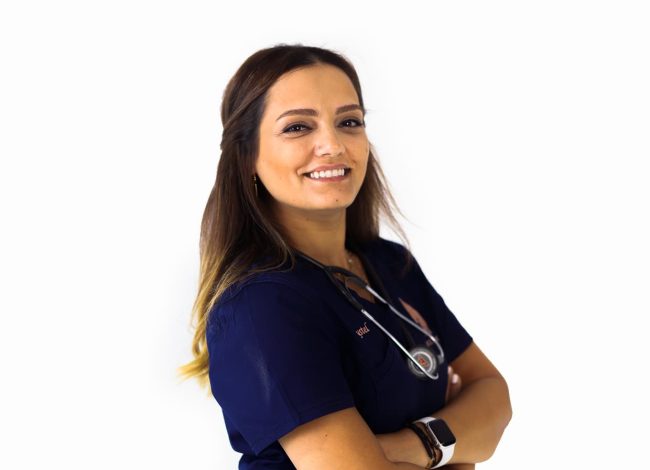 Dr. Krystel Tabet
DVM, MVSc
General Surgery

Preventative Medicine
BIOGRAPHY
Dr. Krys was born and raised in small Lebanese village called Achkout. Since childhood she had an extreme passion for nature and animals. At the age of 12, and after being bitten by a dog, she decided on a career in veterinary medicine. You can see it as "love from the first bite".
In 2013, Dr. Krys graduated from the Lebanese University in Beirut, Lebanon. Since then she worked at different veterinary hospitals in Lebanon. My latest position was as a senior veterinarian performing all veterinary duties in addition to routine and specialized surgeries. I still hold in my heart my passion for nature and extreme sports.
You can learn more about our services on this page and about our prices here.
For more information or to schedule your next appointment, please contact the Modern Vet front desk by calling 800-82, using the WhatsApp button on our website, or our Online Booking page.  We are open 24 hours, every day of the week!
Our clinics are located around Dubai, so you can choose the most convenient for you:
Modern Vet Hospital
Modern Vet JLT
Modern Vet JVC
Modern Vet Downtown
Modern Vet Palm
Visit our Team page to meet Modern Vet medical crew and About us page to learn about our philosophy and mission. Don't forget to follow us on social media to be in touch, we are presented on Instagram , Facebook and Twitter.
We have gathered plenty of useful materials that can help with your pet in our Health Library. We look forward to being your ultimate partner in pet healthcare – We Are Committed To Passionate & Comprehensive Vet Care.
Very good service , Dr krystel and the team is very professional 💕
Great service. Dr. Crystal is very knowledgeable. She gives all the time needed to explain every aspect needed.