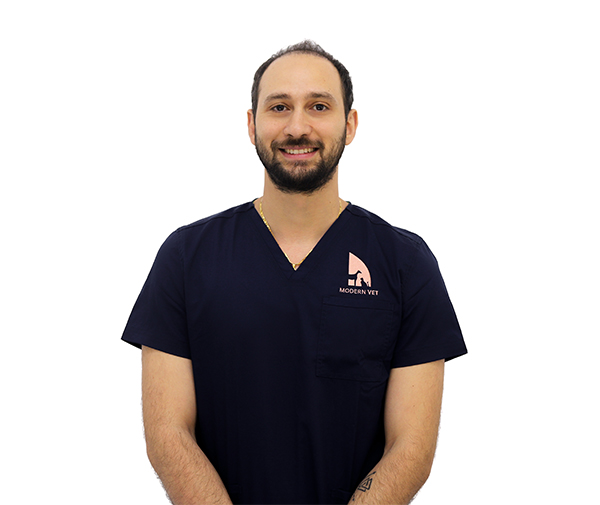 Dr. Roy Hassoun
DVM, MVSC, BVSc, DISAMS, DSAS
Born out of a fervent passion for veterinary care and a relentless pursuit of specialized knowledge, Dr. Roy Hassoun has risen to prominence in the field of veterinary surgery. Specializing in orthopedic implants, neurosurgery, and minimally invasive procedures, he has cultivated an impressive reputation not only in his native Lebanon but also on an international scale.
Dr. Hassoun's illustrious educational journey began at the Lebanese University in Beirut, where he successfully obtained his DVM and MSc degrees. Further honing his expertise, he completed a rotational internship in small animal medicine and surgery at the esteemed ENVT in Toulouse, France. His thirst for specialized knowledge led him to the University of Claude Bernard in Lyon, where he was conferred a Master's degree in Biomechanical Orthopedic Implants.
His commitment to the field was further solidified during his tenure as a clinical assistant at the CHEVAC-ENVL (Vetagro sup) in Lyon, where he closely worked with the small animal surgery department. Later, he lent his expertise to Abvet in Paris, focusing on the intricate procedures of neurosurgery, orthopedic, and minimal invasive surgery.
Currently, Dr. Hassoun serves the veterinary community as an itinerant specialized surgeon. He showcases his extensive skills by performing advanced consultations and surgeries, emphasizing soft tissue, orthopedic, and neurosurgical procedures across Lebanon.
Beyond his hands-on roles, Dr. Hassoun is an esteemed voice in the academic and professional circles. He has graced the podium as a speaker at several national and international congresses, including the AFVAC, ECVS, and GEC. His pioneering work and insights have found their way to respected publications such as JSAP, VETRECORDS, VCOT, and NEVA, underscoring his contributions in orthopedic surgery, neurosurgery, and MIS.
In essence, Dr. Roy Hassoun's journey is a testament to his dedication, expertise, and the profound impact he has made in the realm of veterinary surgery.
Great vet practice. The facility is beautiful, so stylish, almost like a spa. Super friendly staff and doctors. My pup was very nervous at first, but soon calmed down and was comfortable with the staff after they gave her treats and lots of attention. 😀 Couldn't believe how calm my dog was receiving her vaccinations. A great experience overall. This is officially our new vet.
I have been taking my dog to Modern Vet, in Dubai, for the past 6 years. My pup is an elderly dog, and I feel she gets the proper attention, care, expertise, and respect with the team at Modern Vet.
What a professional vet. Clear. Precise and extremely helpful. All the staff are very supportive and genuinely friendly. Thank you. My dog is happy.